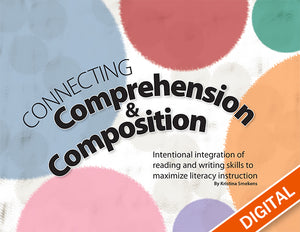 Connecting Comprehension & Composition Digital Edition Item: 568
Connecting Comprehension & Composition Digital Edition
Maximize literacy instruction with an intentional integration of reading and writing skills
by Kristina Smekens 
Over 100 reading skills with their reciprocal writing skills
This resource provides over 200 lesson concepts introducing reading skills and their related writing skills. This book features side-by-side lessons organized in three ways.
Process Units of Study show students how to function as readers and writers and ways to develop strong habits.
Strategy Units of Study dissect the writing skills that mirror individual comprehension strategies.
Genre Units of Study highlight significant reading and writing skills to target within the different modes of communication (e.g., narrative, informative/expository, argumentative/persuasive, and more).
Grades PreK-12

Digital 22-page downloadable PDF (Acrobat) Document File (Product Note: A download link will be sent via email after purchase. No physical products will be shipped.)
Watch this video where Smekens Education Remote Coach Bridget Longmeier explains how to use this resource in your classroom.
"This text is not a mini-lesson book. It's a list of 100+ skills to teach readers and their corresponding writing skills. It's for those who may not know the reciprocal skills between specific reading lessons and their counterparts in writing. Connecting Comprehension & Composition will help teachers plan which writing lessons to teach when targeting particular skills with their readers."--Kristina Smekens
---
We Also Recommend