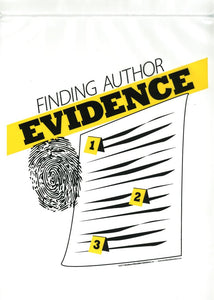 Evidence Bags Item: 193
Evidence Bags
ISBN: SM193
by Smekens Education
The Evidence Bag reinforces what counts as textual evidence. Before the activity, the teacher would write/type multiple sentences from a text onto individual strips of paper. After reading the entire text, the teacher makes a claim about the information (e.g., The main character is courageous). Like a reading detective, students work in small groups to read each sentence strip and determine if it's evidence to support the opinion or merely a detail from the original passage. Each strip that is identified as evidence is then collected within the Evidence Bag.
Each set contains 5 reclosable 12" x 16" bags.
Watch as Kristina Smekens explains how to use this product in your classroom.
---
We Also Recommend