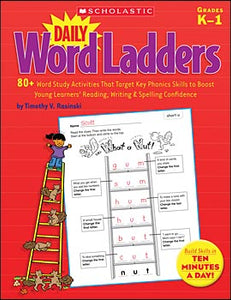 Daily Word Ladders: Grades K-1 Item: 223799
Daily Word Ladders: Grades K-1
80+ Word Study Activities That Target Key Phonics Skills to Boost Young Learners' Reading, Writing, & Spelling Confidence
ISBN: 978-0-545-22379-9
by Timothy Rasinski
Students climb to new heights in reading and writing with these fun, engaging, reproducible word-building games! Students read clues on each ladder rung, then change and rearrange letters to create words until they reach the top. All the while, they're analyzing sound-symbol relationships, developing phoemenic awareness, broadening their vocabulary, and building spelling skills to become better readers.
Motivating game-like lessons build decoding, phonics, spelling, and vocabulary skills.
Word ladders can be completed independently or with teacher or parent support.
Ideal for whole-class, small-group, or individual word work.
Grades K-1, 96 pages
---
We Also Recommend