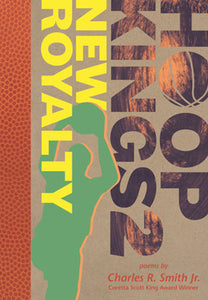 Hoop Kings 2: New Royalty Item: 210354
Hoop Kings 2: New Royalty
ISBN: 978-1-5362-1035-4
by Charles R. Smith, Jr.
With this high-energy collection of poems and dynamic photos celebrating twelve pro ballers, Charles R. Smith Jr. scores another slam dunk.

What's your game? Can you fly like Blake Griffin? Are you a lightning-fast force of nature like Russell Westbrook? Or are you a chameleon on the court, racking up nicknames like Steph Curry? From James Harden with his shimmy-shake-spin to "Lord of the Leap, Sir Alley of the Oop" Lebron James, here are a dozen profiles honoring the superb talents and skills of some of the best players in NBA basketball. With bold, graphic photographs and fun, accessible poems infused with his indomitable wordplay, Charles R. Smith Jr. captures the agility and finesse that each of these professionals brings to the game. Poem notes about each featured player offer further inspiration at the end.
Hardcover, 40 pages
---
We Also Recommend