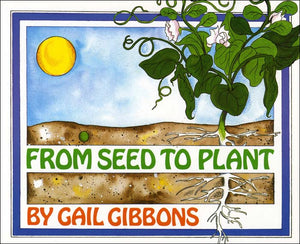 From Seed to Plant Item: 410255
From Seed To Plant
ISBN: 978-0-823-41025-5
by Gail Gibbons
Flowers, trees, fruits—plants are all around us, but where do they come from?

With simple language and bright illustrations, non-fiction master Gail Gibbons introduces young readers to the process of pollination, seed formation, and germination. Important vocabulary is reinforced with accessible explanation and colorful, clear diagrams showing the parts of plants, the wide variety of seeds, and how they grow.
The book includes instructions for a seed-growing project, and a page of interesting facts about plants, seeds, and flowers. A nonfiction classic, and a perfect companion for early science lessons and curious youn gardeners.
Paperback, 32 pages
Appropriate mentor text for:
Expository Writing: How-To (Sequential) Writing
---
We Also Recommend