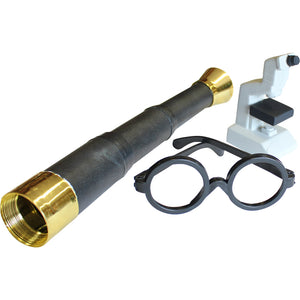 Close-Reading Questions Triggers Set Item: 186
Close-Reading Questions Triggers Set
ISBN: SM186
Use this set of triggers to help students with their close reading. Set includes:
Eyeglasses to represent that initially readers comprehend on a surface level. Then they reread to paraphrase or retell details, summarize important concepts, and determine the main ideas.
A microscope to signify that readers can zoom in to analyze the text and evaluate author decisions about word choice, organization, and purpose.

A telescope to symbolize that with a deeper understanding of the text, readers can zoom out to consider visual features of the text, evaluate text quality and author credibility, and make text-to-text connections.
(Note: The telescope may have a pirate label/sticker. The item shown in the picture above has had this label removed.)
**Limited quantities available.
Watch this video where Smekens Education Remote Coach Bridget Longmeier explains how to use this resource in your classroom.
---
We Also Recommend