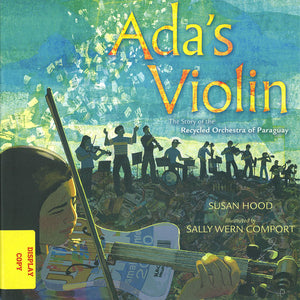 Ada's Violin DISPLAY COPY
This gently used book served as a display copy at our live workshops. Each title in this category has a yellow DISPLAY COPY label that wraps around the spine and may also have inventory tags. Quantities are limited. Sale prices valid online only.
Ada's Violin DISPLAY COPY
The Story of the Recycled Orchestra of Paraguay
ISBN: 978-1-4814-3095-1
by Susan Hood
From award-winning author Susan Hood and illustrator Sally Wern Comport comes the extraordinary true tale of the Recycled Orchestra of Paraguay, an orchestra made up of children playing instruments built from recycled trash.
Ada Ríos grew up in Cateura, a small town in Paraguay built on a landfill. She dreamed of playing the violin, but with little money for anything but the bare essentials, it was never an option...until a music teacher named Favio Chávez arrived. He wanted to give the children of Cateura something special, so he made them instruments out of materials found in the trash. It was a crazy idea, but one that would leave Ada—and her town—forever changed. Now, the Recycled Orchestra plays venues around the world, spreading their message of hope and innovation.
Hardcover, 40 pages