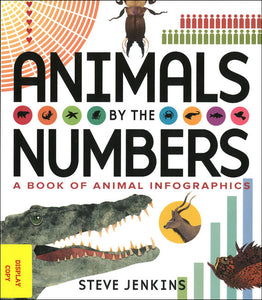 Animals By the Numbers DISPLAY COPY
This gently used book served as a display copy at our live workshops. Each title in this category has a yellow DISPLAY COPY label that wraps around the spine and may also have inventory tags. Quantities are limited. Sale prices valid online only.
Animals By the Numbers DISPLAY COPY
A Book of Infographics
ISBN: 978-0-544-63092-5
by Steve Jenkins
How many species are there across the globe?
How much do all of the insects in the world collectively weigh?
How far can animals travel?
Steve Jenkins answers these questions and many more with numbers, images, innovation, and authoritative science in his latest work of illustrated nonfiction. Jenkins layers his signature cut-paper illustrations alongside computer graphics and text that is teeming with fresh, unexpected, and accurate zoological information ready for readers to easily devour. The level of scientific research paired with Jenkins' creativity and accessible infographics is unmatched and sure to wow fans old and new.
Hardcover, 48 pages