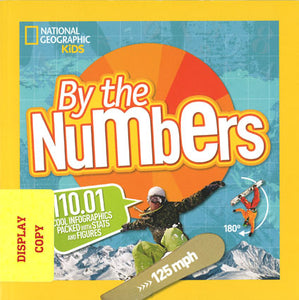 By the Numbers DISPLAY COPY
This gently used book served as a display copy at our live workshops. Each title in this category has a yellow DISPLAY COPY label that wraps around the spine and may also have inventory tags. Quantities are limited. Sale prices valid online only.
By the Numbers DISPLAY COPY
110.01 Cool Infographics Packed with Stats and Figures
ISBN: 978-1-4263-2072-9
by National Geographic Kids
Boost your math-brain power! Discover the amazing world of numbers and the real-world wonders they represent through creative, totally "getable" infographics. Colorful illustrated graphs, word clouds, pie charts, maps, photography, comparitive images, and more illuminate the math behind statistics, trends, measurements, and more that we encounter every day. Infographics cover subjects kids care about and can apply to daily living, such as money, food, green living, technology, how things work, and much more. Awesome Q&As with "numbers" people such as computer programmers, sports statisticians, and more show how math is a cool and useful tool.
Paperback, 256 pages