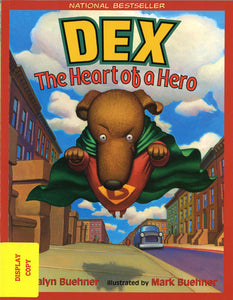 Dex: The Heart of the Hero DISPLAY COPY
This gently used book served as a display copy at our live workshops. Each title in this category has a yellow DISPLAY COPY label that wraps around the spine and may also have inventory tags. Quantities are limited. Sale prices valid online only.
Dex: The Heart of a Hero DISPLAY COPY
ISBN: 978-0-06-443845-2
by Caralyn and Mark Buehner
Dexter the dog is so little that Cleevis the tomcat bullies him. But little Dex has dreams—big dreams. He wants to be a superhero. So he reads all the comic books he can, builds his muscles, and even orders a hero suit. Suddenly, even Cleevis needs his help! Dexter has determination, spirit, and heart as he proves, above all, that no matter how little you are, you can still do very big things.
Paperback, 32 pages