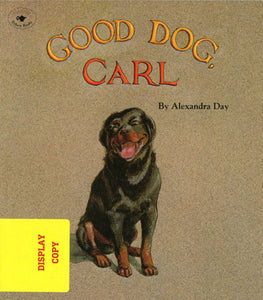 Good Dog, Carl DISPLAY COPY
This gently used book served as a display copy at our live workshops. Each title in this category has a yellow DISPLAY COPY label that wraps around the spine and may also have inventory tags. Quantities are limited. Sale prices valid online only.
Good Dog, Carl DISPLAY COPY
ISBN: 978-0-689-81771-7


by Alexandra Day
Finally in paperback, here is the book that introduced Carl, the babysitting Rottweiler, to his adoring fans. Readers will delight as Carl leads his infant mistress on a wordless romp through the house, causing chaos and destruction, but managing to restore order just before Mother returns home!
Paperback, 40 Pages
Appropriate mentor text for:
Drawing
Watch this video from the 2012 Literacy Retreat where Kristina Smekens identifies her favorite features of this title.