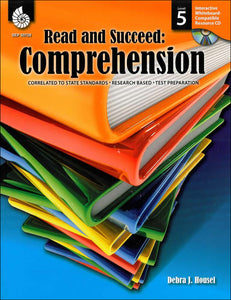 Read & Succeed: Comprehension, Grade 5 Item: 807283
Read & Succeed: Comprehension, Grade 5
Correlated to State Standards--Research Based--Test Preparation
ISBN: 978-1-4258-0728-3
Reading comprehension is one of the critical skills students need in order to be successful--in school and in life. This teacher-reviewed, standards-based series provides the high-quality, purposeful practice that students need to improve reading comprehension. The high-interest passages--including both fiction and nonfiction--capture students' interest, and the focused activities provide targeted practice opportunities. The Resource CD included in the book features interactive whiteboards-compatible materials for additional support in building reading comprehension skills.
Grade 5, 152 pages + CD
**Sale prices subject to availability.
---
We Also Recommend