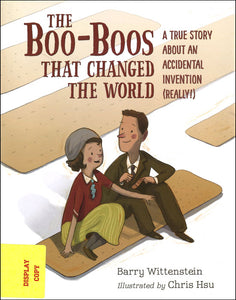 The Boo-Boos That Changed the World DISPLAY COPY
This gently used book served as a display copy at our live workshops. Each title in this category has a yellow DISPLAY COPY label that wraps around the spine and may also have inventory tags. Quantities are limited. Sale prices valid online only.
The Boo-Boos That Changed the World DISPLAY COPY
A True Story About An Accidental Invention (Really!)
ISBN: 978-1-58089-745-7
by Barry Wittenstein
Did you know Band-Aids were invented by accident?! And that they weren't mass produced until the Boy Scouts gave their seal of approval?
1920s cotton buyer Earle Dickson worked for Johnson & Johnson and had a klutzy wife who often cut herself. The son of a doctor, Earle set out to create an easier way for her to bandage her injuries. Band-Aids were born, but Earle's bosses at the pharmaceutical giant weren't convinced, and it wasn't until the Boy Scouts of America tested Earle's prototype that this ubiquitous household staple was made available to the public. Soon Band-Aids were selling like hotcakes, and the rest is boo-boo history.
Hardcover, 32 pages