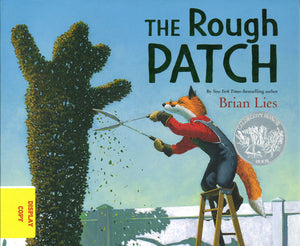 The Rough Patch DISPLAY COPY
This gently used book served as a display copy at our live workshops. Each title in this category has a yellow DISPLAY COPY label that wraps around the spine and may also have inventory tags. Quantities are limited. Sale prices valid online only.
The Rough Patch DISPLAY COPY
ISBN: 978-0-06-267127-1
by Brian Lies
New York Times–bestselling author-illustrator Brian Lies has created a beautiful, accessible, and deeply personal story about friendship, loss, and renewal. The Rough Patch was awarded a Caldecott Honor and features stunning paintings from the award-winning creator of Bats at the Beach.
Evan and his dog do everything together, from eating ice cream to caring for their prize-winning garden, which grows big and beautiful. One day the unthinkable happens: Evan's dog dies. Heartbroken, Evan destroys the garden and everything in it. The ground becomes overgrown with prickly weeds and thorns, and Evan embraces the chaos.
Hardcover, 40 pages