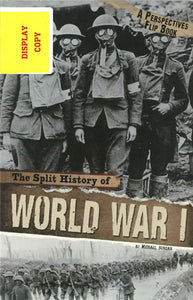 The Split History of World War I DISPLAY COPY
This gently used book served as a display copy at our live workshops. Each title in this category has a yellow DISPLAY COPY label that wraps around the spine and may also have inventory tags. Quantities are limited. Sale prices valid online only.
The Split History of World War I DISPLAY COPY
A Perspectives Flip Book
ISBN: 978-0-7565-4700-4
by Michael Burgan
Tensions have been brewing in Europe for years. Finally the 1914 assassination of Archduke Franz Ferdinand of Austria-Hungary sets off four bloody years of war that eventually involved the entire world, including the United States. It will be called the "war to end all wars." Experience it from two opposing perspectives.
Perspectives Flip Books are like two books in one: start from one end and immerse yourself in one viewpoint on a major historical event. Then flip it over and immerse yourself in another, very different viewpoint. Readers will come away with deeper understanding of events and history's many perspectives.
Paperback, 64 pages
Watch this video clip from the 2017 Literacy Retreat where Kristina Smekens explains how to use this title in your classroom.