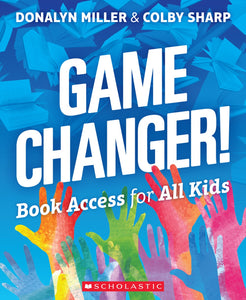 Game Changer! Item: 310597
Game Changer!
Book Access for All Kids
ISBN: 978-1-338-31059-7
by Donalyn Miller, Colby Sharp
Decades of research point to the fact that access to books improves children's ability to read and desire to read. Yet too many children live in "book deserts." In this book, literacy authorities and advocates Donalyn Miller and Colby Sharp show how creating "book floods"—in the classroom, school, home, and beyond—is a game changer for kids, especially kids with little access to books outside of school. Through their own classroom experiences and those of experts in the field, Miller and Sharp provide stakeholders with tools and techniques to dramatically increase children's access to—and life-changing engagement with—books.
Grades K-12, 144 pages
---
We Also Recommend