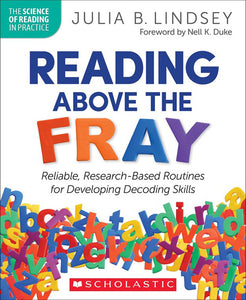 Reading Above the Fray Item: 828726
Reading Above the Fray

Reliable, Research-Based Routines for Developing Decoding Skills
ISBN: 978-1-338-82872-6
by Julia B. Lindsey
Julia Lindsey's evidence-based routines help young readers decode words efficiently so they can spend more energy on comprehending—and enjoying—what they read!
You'll find:
need-to-know essentials of how kids learn to read.
principles of high-quality foundational skills instruction.
teacher-approved instructional "swaps" to improve early reading instruction.
Lindsey addresses content learning, culturally responsive practices, and the importance of engaging readers from the start.
Grades K-3, 160 pages
---
We Also Recommend